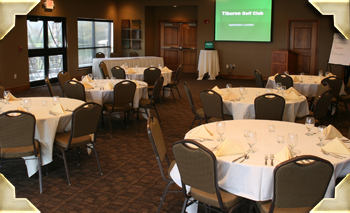 Tired of the same meeting in the same office boardroom? Wish you could just get away for the day and try something new for a change? Well do we have a solution for you.
Plan your next meeting with the professional event staff at Tiburon Golf Club. Located just north of highway 370 on 168th Street, Tiburon could be the destination of your next successful business retreat. From small corporate meetings to elaborate business presentations or trade shows, let Tiburon Golf Club help you create something out of the ordinary.
Our meeting rooms are enhanced with contemporary decor and natural lighting. Need audio visual equipment? We have what you're looking for! With drop down screens and projectors in each room and a wide selection of other tools, we make it easy to showcase your next presentation.
Maybe 8-5 is not your cup of "tee". Instead, start the day by teeing off on our 27-hole championship golf course. After a round, sit back and relax. Our staff will wine and dine your clients in our newly built clubhouse, while you sit back and watch the sun set.
Call the events department today at 402-896-1323 for information on how to book your next meeting.
Events Department: events@tiburongolf.com